VSM Publications
Purchase our books online at Flipkart or send us an e-mail at [email protected]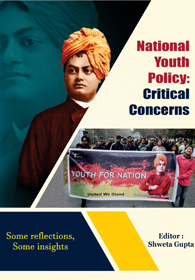 National Youth Policy: Critical Concerns
This book contains 15 chapters on different aspects of National Youth Policy. These chapters have been written by academicians, researchers, professionals, social workers, and administrators. The chapters cover details on Swami Vivekananda and his mantras for the National Youth Policy, lessons from ancient Indian scriptures for the youth, expectation of youth contribution and outcomes, creation of knowledge-asset through micro-level profiling of Indian youth, integrated and holistic approach towards the National Youth Policy, revitalizing the structure of youth oriented programmes like National Service Scheme and Nehru Yuva Kendra, empowering the rural context through National Youth Policy, enhancing the prospects of agriculture to strengthen the process of rural development, relevant issues to be added to the document of National Youth Policy, and modifications in the education system.
The NYP is largely present-oriented instead of having a futuristic outlook. The story of the country in global perspective must be reflected through this visionary document. It must suggest and take the country on a pathway of peace and prosperity which is led by nationalist, socially sensitive, and welfare oriented youth. This book is therefore an attempt to highlight the significant concerns approaching the National Youth Policy and we hope that it would sensitize and instigate the reader to look towards the youth and the youth policy with immense possibilities and enhanced perspective.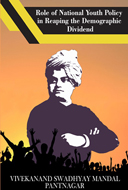 Role of National Youth Policy in Reaping the Demographic Dividend
The National Youth Policy must represent an effective action roadmap for strong and resurgent youth population. The 2018 National Conference at Pantnagar shared, discussed, and drafted ideas and strategies to strengthen the National Youth Policy document of India.
This compendium thus brings forth enriching paper on the pivotal issue of National Youth Policy by academicians, corporate professionals, social workers, and students. This publication is also an effort to apprise the youth of the country about various government initiatives, so that they can suggest possible reforms and thereby contribute for the welfare of their brethren and for the cause of nation building.
Available through email communication.
Teen Kalam Ek Syaahi (तीन कलम एक स्याही)
Poetry is a sort of reflection of one's intrinsic dimensions. Three youth leaders took an initiative to compile their inner music and thus this publication came into being. This book is a collection of 31 poems on varied subject matter which includes emotions, patriotism, life, relationships.
This poetry book is an inspirational read for all, especially youngsters.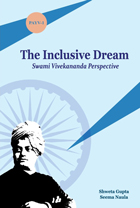 The Inclusive Dream: Swami Vivekananda Perspective
Caste, class, clan, colour, language, dialects, region, religion; plethora of issues to differentiate and segregate man from man. The humanity dreams to carve a beautiful world full of synergy, sensitivity, compassion, brotherhood, opportunities, amenities, hope and happiness.
The book deciphers the mantras of Swami Vivekananda to fulfil this farfetched dream. It has been written and designed by young VSM scholars who have made efforts to delve deep in the thoughts of Swami Vivekananda for analysing and synthesizing the clues for the betterment of humanity. The prescriptions provided are absolutely relevant for today's world.
Skilling India for Youth Empowerment: Opportunities, Challenges and Futuristic Strategies
This compendium of National Conference 2017 brings forth the pivotal issue of skill development in India. In the emerging context of knowledge economy, a balance of both basic education and skill set beyond education is required. Several national and international bodies such as UN, NSDA, World Bank, etc, have stressed on the importance of skilled manpower.
In India, several initiatives by the government are working on the ground to skill the youth population. This publication is the voice of academicians, practitioners, social workers, and students in this regard and their enriching papers aim to enthuse the youth to strengthen their skill set and contribute their fullest in nation building.
Available through email communication.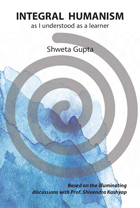 Integral Humanism: as I understood as a learner
This book is a dedication to Pandit Deendayal Upadhyay and Nanaji Deshmukh on their centenary birth anniversary. The concept of Integral Humanism was propounded by Pandit Deendayal Upadhyay and Nanaji brought forth the manifestation of integral humanism through his commendable works.
The author of the book is one of the VSM youth leader who made an attempt to understand the concept of Integral Humanism through intense discussions with Prof. Shivendra Kashyap, who spent enlightening eight years with Nanaji Deshmukh. The concept has been presented in a simple form so that the present youth generation can easily understand and connect with it. Integral Humanism is all about looking life in a unified, integrated perspective.
Channelizing Potential of Indian Youth for Nation Building: Transforming Dreams into Reality
With the onset of demographic opportunities, the youth potential of the country needs to be channelized so that the required demographic divided can be harnessed for the growth and development of the nation.
The book contains papers on the theme of National Youth Conference 2016 held at Pantnagar University, which was Channelizing Potential of Indian Youth for Nation Building. The book is an enthusiastic attempt of all young scholars who brainstormed to compile their ideas as their contribution in nation building.
Available on Flipkart.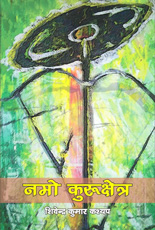 Namo Kurukshetra (नमो कुरुक्षेत्र)
Namo Kurukshetra is a life changing saga of the great Hindu scripture Mahabharata. Written in the form of compilation of many short stories, it presents before the readers the simple but effective lessons which one can learn from the various characters and instances of this epic.
It highlights the life building characteristics which were exemplified by our ancestors and which form the basis of our great culture and hence provides a very fresh and significant angle of studying and learning from Mahabharata. Its thought provoking lessons, interesting examples and simplified approach instantly appeals the reader's mind and also serves as a guiding light for shaping one's persona.
Vivekanand Swadhyay Mandal – a saga of self exploration
This publication is an introduction to Vivekanand Swadhyay Mandal (VSM). What, where, when, why, how, and all other questions about VSM are answered here. It describes the uniqueness of this approach and the thought process it reflects. Also, the immense impact it has created in the lives of many as well as its broader impact on society and nation is also described.
The presentation of the booklet is distinct in itself, as all tenets of VSM are presented in the form of 'I'. It is illustrated around the concept of an individual and its saga of self-exploration.
The Quest of Humming Bees
The elders take life as it comes but youth challenge every decision and action. This new life-touching VSM publication is about the confrontations and feelings of youngsters in different day to day situations.
It is an interesting four-coloured booklet of about hundred pages with stories and anecdotes to answer important problems of day to day life. A must keep and must read for all. Reading it will definitely make you feel it as a story of your own life and solutions to confront your doubts with refreshingly new perspectives to take decisions and action in all situations.
Changing Roles of Youth in Shaping India's Future: Challenges & Opportunities
The book is an initiative to bring out the ideas of young, enthusiastic and energetic scholars through the platform of National Youth Conference organised by GB Pant University of Ag. Tech., Pantnagar.
Various students from all across the nation have come together on a common foothold of the Changing roles of youth in shaping India's future, including the students from prominent institutes. This compilation also includes the visionary ideas of the renowned expertise from numerous arenas.
Available on Flipkart.
Social Entrepreneurship: A Livelihood Option with Social Transformation
This document is a testimony of youth activism for sustainable development. Unemployment and lack of opportunities are much talked-about issues. Talented people use to escape this situation by flying out to foreign abodes. People in our place use to agitate against government and system inefficiency and negligence. But, some people neither escape nor blame. They put themselves to give a solution in all odds. This peaceful and constructive activism needs patience, optimism and sacrificial feeling. This has been demonstrated by the social entrepreneurs who gambled their safe career to provide an answer to social problems.
This document is dedicated to all such entrepreneurs who accepted the challenge to give a solution. This document contains write-ups of such enthusiasts who want to seek and give a solution. It is full of youth vigor and unperishable zeal to generate a change.
Exploring Swami Vivekananda
We are blessed to have Swamiji's 150th birth anniversary in our lifetime. The publication is a document framed by disciples who owe Swami Vivekananda at the core of their hearts. It is an effort to love that visionary saint with diverse view-points. It provides ample light on the facets of personality of Swami Vivekananda that will be useful for the inquisitive youngsters and the veteran practitioners as well.
We submit this humble effort to the passionately humanitarian dreams of Swami Vivekananda. He was a philosopher, a thinker, an organiser, a motivator, a social activist, a revolutionary and a protagonist. His life has immense messages for human beings in general and the youth of the world in particular. Thinking in terms of his personality, vigour, power of expression, analytical skill, vision, or his spiritual immenseness, we have unlimited opportunity to imbibe from him.
Shaping a Drudgery Free World: Concern of Food, Education, Sovereignity and Happiness
Youth is the real power for any country. Young people have their distinct views and vision of future. The book provides a range of ideas to meet human drudgery like hunger, inequality, unemployment, environment, natural resource management, education, women empowerment, social barriers etc.
The papers are mostly written by young scholars. The papers are from youth of Algeria, Indonesia, Liberia, Nepal and leading Indian institutions as Indian Institute of Science, Bangalore; Indian Institute of Management, Indore; NDRI, Karnal; Punjab Agricultural University, Ludhiana; Banaras Hindu University,Varanasi; University of Agricultural Sciences, Banglore, Karnataka; NIT, Patna; NIT, Tiruchirappalli; BITS, Mesra, Ranchi; Mahatama Phule Krishi Vidyapeeth, Rahuri; Dev Sanskriti Viswavidyalaya, Haridwar; Maharana Pratap University of Agriculture and Technology, Udaipur; G.B. Pant University of Agriculture & Technology, Pantnagar etc. The book also contains vision of experienced and enlightened protagonists.
Resource Booklet on 150th Birth Anniversary of Swami Vivekananda
A complete book containing compilations of the entire proceedings of the first two day of the International Conference held on the occasion of 150th birth anniversary year of our guiding light – Swami Vivekananda at the pious land of Pantnagar University, Uttarakhand, India.
It is a beautiful collection of thoughts, coming directly from the deliverances of hundreds of youthful participants, as to how we can utilize his transforming thoughts and seamless passion for the betterment of life and character of people in solving the critical issues we face in today's era. It contains not only models and suggestions for solving the issues but also real life examples of such projects being run at different places and institutes in which people themselves come forward to become the change agents in society instead of waiting for someone else. In a nutshell, a meaningful extract of the pious thoughts of hundreds of committed souls who have sensitively thought about the burning issues afflicting us today and strived to generate solutions for them.
Saving Humanity
A compendium of all papers and views contributed by delegates all over the world in the International Youth Conference 2012 held as part of Youth Awakening Festival 2012 on the soil of G.B. Pant University of Agriculture and Technology.
The articles are written on the various topics related to the major themes of the conference i.e. Swami Vivekananda: applicability of his philosophy and thoughts in present context, Integrated development for happiness and satisfaction, universal harmony and broader tolerance, saving Earth: an activist approach. A unique testimony to the rare event, assimilating in itself the ideas and answers to the most pertinent issues crippling modern world, the book contains precisely 66 papers around the above themes.
Available through email communication.
Lead Young India
Leadership is a divine and rare trait of human being. It asks for initiative and sacrifice. Country like India, with vast youth population needs to rear potential youth leaders in all segments for future growth. Youth masses need to be conscientized and trained for future responsibilities.
This book is about an exemplary effort of leadership training and youth mobilization by Vivekanand Swadhyay Mandal at Pantnagar University. The major focus of the book is to earmark roles and characteristics of young leaders who may take lead for societal change. It details the process and outcome of Leadership Hunt Contest which is a very interesting case in context of leadership generation and youth mobilization for social change.
Available through email communication.
Motivational Leadership
The book is an interesting document on leadership with Swami Vivekanand as a success case. The book goes in-depth to understand Swamiji as a communicator, motivator, manager, task-master, perfectionist, die-hard activist, crusader, change agent, leader, follower, mentor, dreamer, altruist, humanist, socialist and nationalist. One chapter is devoted to each trait. It talks about Swami Vivekanand in present perspective of purposefulness, performance and productivity.
Unless and until we owe sincere responsibility of mentoring our people to lead them to a better understanding of their self and surrounding, there is no hope of change. This earnest conscientiousness will promote us to strive for some basic virtues which will make us competent in managing man with a mission.
Reaping the Demographic Dividend
India has vast youth population but it should not be taken as an accomplishment as such. Indeed, it may emerge as an asset in due course but it needs a strategy to promote this youth population as a potential human resource, engaged in nation building. Young Indians need proper nurturing to emerge as youth leaders, taking responsibilities of future. Youth Awakening Festival 2011, organized at Pantnagar university was an effort to share this vision around possible avenues of Youth Leadership in the forthcoming days. We met some very successful Youth Leaders of the country in the National Symposium and saw the participation of large number of students from different universities of India in both the debate and symposium who put forth their thoughts and ideas on the subject. The outcome of the entire process of mental churning was to explore the need and ways for Youth Leadership Development, which has been included in depth in this book.
A read of this book will enable one to have an idea of our proposed model of youth leadership development which, we believe, can generate ideal Indian youth. This is based on the outcomes of our decade long experiment carried out on the soil of Pantnagar.
Available through email communication.
Anubhutiyan
A rare collection of verses on the various subtle aspects of life and human reaction and behaviour, straight from the life experiences of our mentor, Dr. Shivendra Kumar Kashyap. Anubhutiyan is an expression of his heart's feelings in Hindi.
A must read for all who are bit philosophic in viewpoint, and each poem will seem to narrate your own story, your own reality, your own predicaments and feelings at one or the other juncture of life.
Available through email communication.
Antarnaad
This book is a collection of feelings of the author who is also our mentor and guide, Dr. Shivendra Kumar Kashyap, written in a poetic way. He has delved deep inside his self to bring out the pearls of wisdom on various themes ranging from life, nature, divine love, suffering, death and even on the art of writing and expressing feelings. In his words, " Life is to live, to share, to get and give. I don't know if life is anything else than that. I earnestly oppose all diplomacy of countries, races, sects, segments who talk anything more than mere and mere humanity. Smile is the bliss and it comes when hearts are convinced that this earth is really a place worth living. Let the life be free from all isms and dogmas, to remain liberated from bigotry and segmentation. Let it remain in most beautiful nascent state."
One can find this freedom and feeling of universal acceptance in his way of writing too in which he didnt bend the words purposefully to create rhymes but rather focused on free expression of the heart's feelings. Each article gives a glimpse of some aspect of his own way of life which entails embracing everyone and everything alike. It is worth reading for sensitive souls who will find their own inner voice echoing through the words of the author.
Available through email communication.
Aahuti
Humans have conquered the Everest, landed on the moon, and measured the depth of oceans. But the greatest challenge lies in conquering none other than their own self. Ever since the break up of cardinal dawn, and from the time they have collected the consciousness, they are in perpetual quest for the real truth, the very purpose of existence.
Aahuti is thus a small but significant attempt in aiding a person in this journey for excellence and perfection. This is not just a story of X or Y, but of each one of us, to make one realize the subtle facts of life, of human relationships, of true nature of feelings and emotions. The story in itself is rich in content, diction and creating and keeping reader's interest intact all through. The background and character portrayal is so vivid that you can actually visualise the incidents and live with the characters. So, in a nutshell this story is a must read for all in quest for the real 'purpose of existence'.
Available through email communication.